News
BEST OF SHOW

Larry W. Hamilton - Wichita Falls Art Association - Oliver

HONORABLE MENTION

JR Cook - Graham Art Guild - Afternoon Rain

Jim Edwards - Wichita Falls Art Association - The Eye Of The Tiger

Doris W. Friddle - Mineral Wells Art Association - Coming Storm

Johnny "Mahto" Hogue - Weatherford Art Association - Silver Earrings

Becky Isbell - Pecan Creek Artists - Bright Window

Teresa Matney - Graham Art Guild - On A Beach Somewhere Beautiful

Robert J. (Bob) McCormick - Mineral Wells Art Association - Hell's Gate (Circa 1939)

Stuart Roper - Mineral Wells Art Association - Wolf Moon Rising

Bonnie Siebert - Graham Art Guild - Bliss It Is To Live Here

Jane Spears - Pecan Creek Artists - Oldie But Goodie: 1936 Packard
PEOPLE'S CHOICE
Jane Spears - Pecan Creek Artists - Oldie But Goodie: 1936 Packard
Congratulations and a special thanks to all that participated!
Save
Save
Save
Save
The 8th Annual Possum Kingdom Arte de los Brazos Art Show and Sale featuring award-winning artist
Satuday, April 1st through Saturday, April 8th 2017
Wine Tasting by Times Ten Cellars - Dallas & Fort Worth locations, April 1 & 2, April 8.
For event details, visit www.artedelosbrazos.com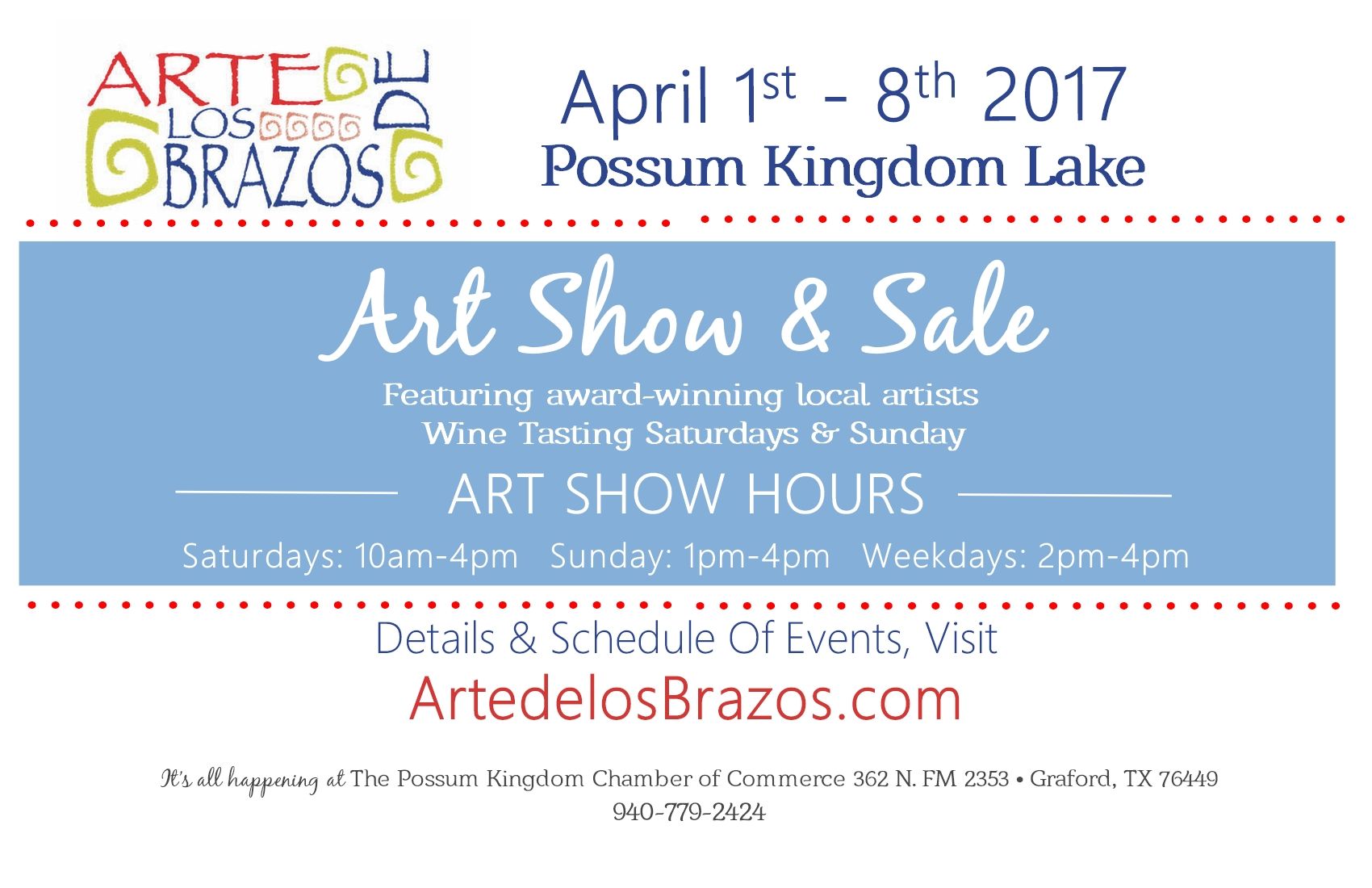 The PKCC would like to thank all that participated in the 2017- 20th Year PK Mardi Gras Parade and Shrimp Fest.
A big CONGRATULATIONS to the parade and costume winners! Thanks for making this event a a fun time...even though the weather was a little chilly and misty, the festivities continued on!!
This event was a success because of all the awesome - hard working volunteers, which include cooks, decorating, clean up, parade organization and the sales/service staff. Also, a big THANK YOU those that took the time and energy to entertain us... the creative and crazy parade and costume participants!! You made the day.
And the winners are...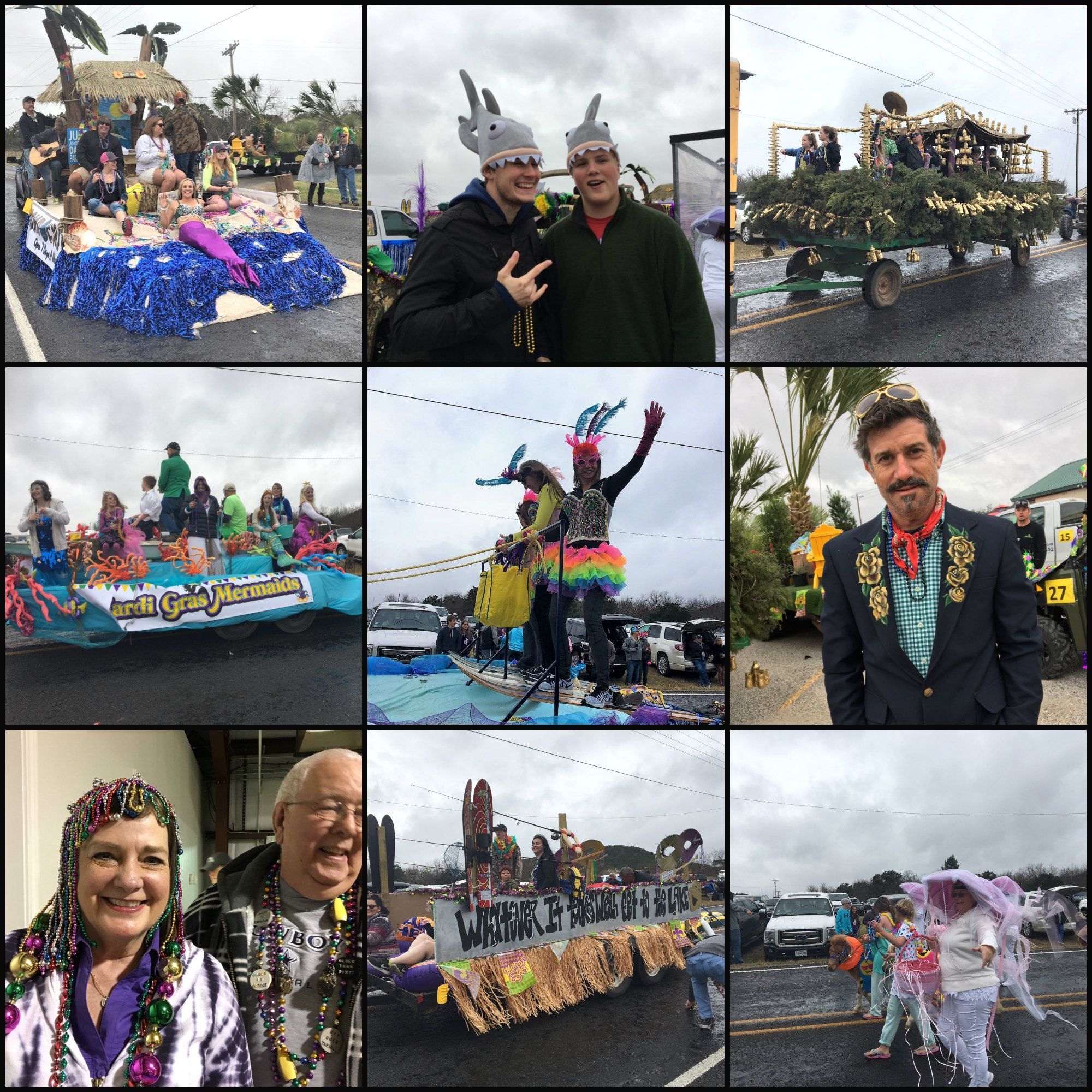 2017 Parade Winners
BUSINESS CATEGORY
1st Place - Boon Docks Bar & Grill
2nd Place - Smart Hardware
3rd Place - Possum Kingdom Real Estate
INDIVIDUAL CATEGORY
1st Place - P.K. Endless Summer Days
2nd Place - Mardi Gras Mermaids
3rd Place - Henderson Hijinks
2017 Costume Winners
ADULT CATEGORY
1st Place - Art & Millelle Bryan
2nd Place - Saul & Karen Tovar
3rd Place - Virginia Dill - Let Us Do It Landscaping
KIDS CATEGORY
1st Place - McKenzie Greent
2nd Place - McKenna Blanch
3rd Place - Riley Nance
2017 KING POSSUM - QUEEN CARP
Brett McGuire & Erin McGuire - Mineral Wells, TX
Raffle Basket Winner
Saundra Gaylord
CONGRATS - THANKS and we hope to see y'all next year!!
Saturday, March 4, 2017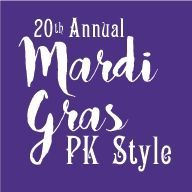 Parade @ 3pm
Shrimp Fest @ 6pm
Mardi Gras PK Style starts off with a fun and wacky parade. Come as a spectator, or join the parade line-up...it's free...just complete a parade entry form (see details here). Tickets available for the all you can eat shrimp fest. Enjoy boiled shrimp and all the fixin's, live cajun entertainment, costume contest, announce parade float winners and dancing! Complete event details here, or contact the Possum Kingdom Chamber of Commerce at 940-779-2424.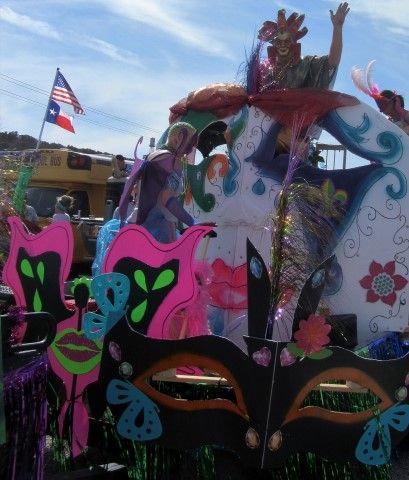 March 4 – PKCC MARDI GRAS Parade & Shrimp Fest
April 1 - 8 – PKCC ARTE DE LOS BRAZOS Art Show & Sale
APRIL 15 – PKCC EASTER Egg Hunt @ North D & D Public Use Area
July 1 – PKCC FIREWORKS @ Hell's Gate
September 2 - 3 – RED BULL Cliff Diving @ Hell's Gate

October 6 - 7 – PKCC POSSUM FEST BBQ & Chili Cook-off
October 28 – PKCC HALLOWEEN Truck or Treat
December 2 – PKCC Children's CHRISTMAS with Santa
Saturday, December 3, 2016
6pm @ Bonitaville
Santa visits PK Lake! Bring your wish list and camera. Let the kids enjoy sweets and drinks and the outdoor decorations!