News
Possum Kingdom Chamber of Commerce invites kids and adults to TRUCK or TREAT & Hayride in Possum Gulch! Saturday, October 28th @ 7pm. We would like grown-ups to join in on the fun...just line up your truck (or car) in Possum Gulch (behind the PK chamber building) and hand out treats to all the little ghost and goblins or Possum Kingdom Lake. FREE & open to ALL.
NEW this year - hayride in Possum Gulch and the East side PKVFD next door will have a SPOOK HOUSE from 6pm-9pm.
Bundle up and come join the fun!!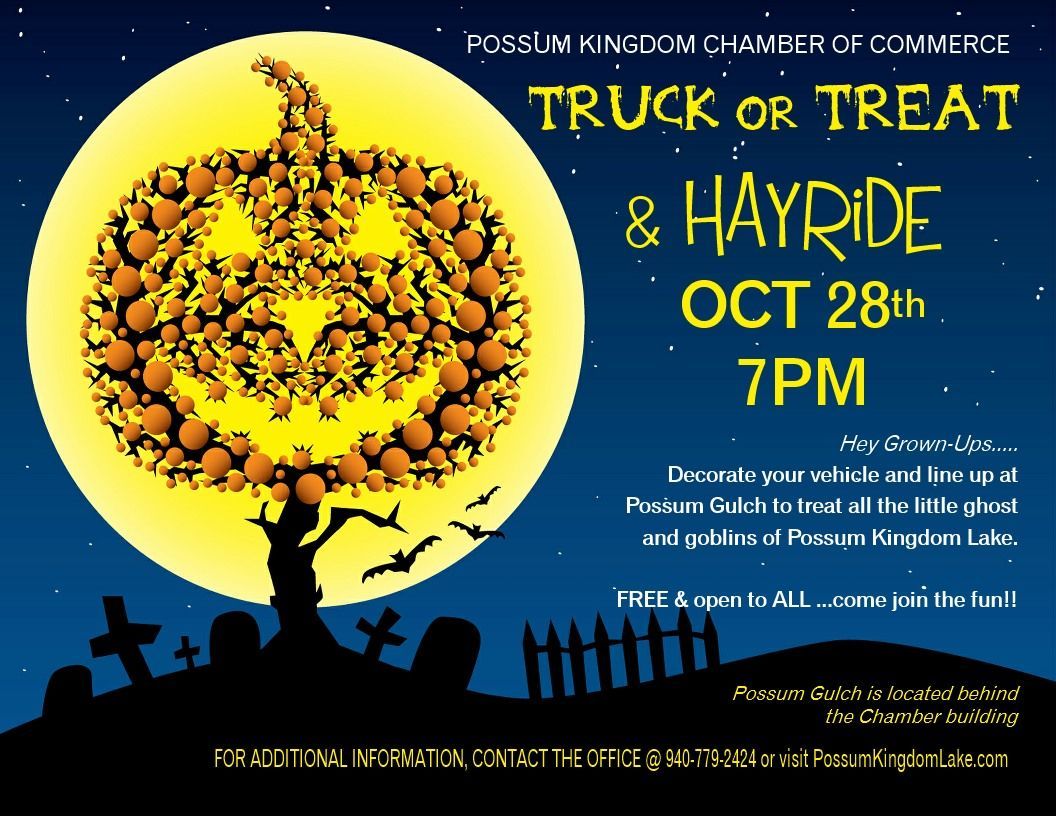 Bloody Mary:
1st place - Shane Hausler with Two Moons BBQ
Salsa:
1st place - John Fletcher with Smokin' Guns
Beans:
1st place - Kelly Locke with Rusty Pickle
Ribs:
1st place - Gary Kelly with Road Crew BBQ
Chili:
1st place - Kathy Lanpher with Williams Trew
Pork:
1st place - Gary Kelly with Road Crew BBQ
Brisket:
1st place - Gary Kelly with Road Crew BBQ
Cobbler:
1st place - Donna Etheridge with St. Peters
Nibble:
1st place - Craig Hutson with River Road Rats
Margaritas:
1st place - Carol Lampier with PK Smokin' Guns
Showmanship:
Two Old Crows and River Road Rats
People's Choice Awards:
Burnin' Hogs with 782 tickets sold!
Winner of Cub Cadet 54" Zero Turn Mower Drawing - Chris Oxford out of Granbury, TX
Click Here to view all winners.

Thank you to everyone who participated in this year's Possum Fest. A special thanks to all of the cooks, volunteers and people who donated items for the auctions. We look forward to this event every year and we hope to see ya next time!
Saturday, September 16, 2017 at the YMCA Camp Grady Spruce - Possum Kingdom Lake
Open at 5pm - bring you own chairs and/or blankets
Food Trucks available on-site - NO coolers, food or pets. Free bottles of water will be provided.
Guest Speaker - Luke Neiver
Special Guests - Christian Hope Worship Band and Power One Outreach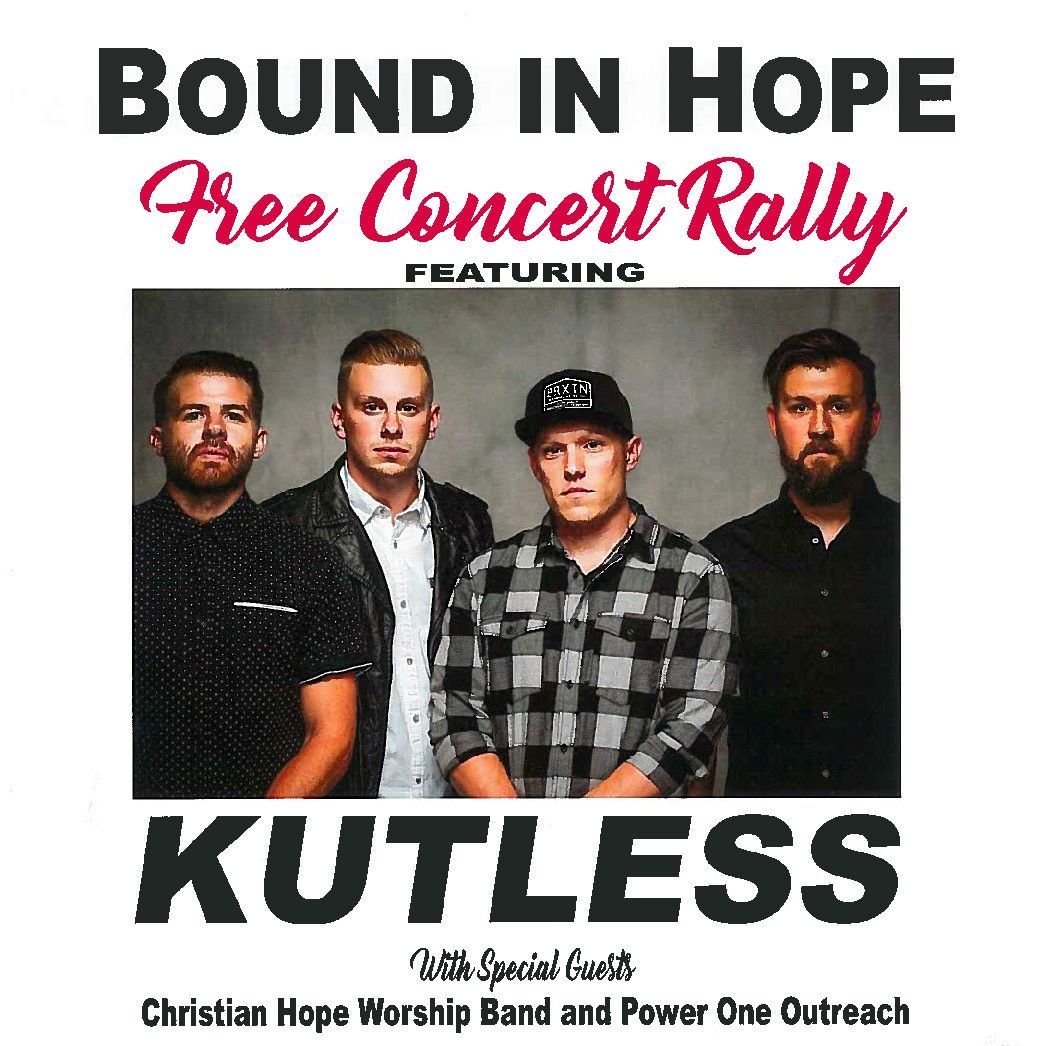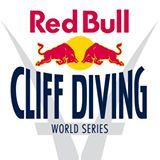 WELCOME BACK, RED BULL!!!
Red Bull Cliff Diving event at Hell's Gate Saturday, 9/2/2017 and Sunday, 9/3/2017.
Click here for event details and FAQ's
Click here schedule - note - received notification Sunday start time has changed to 11am-4pm
For up to date information, click here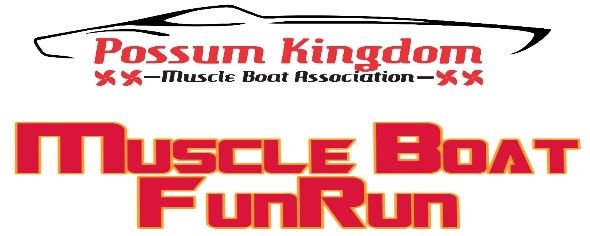 Possum Kingdom Muscle Boat FunRun
Saturday, August 12, 2017 @ 10am
Meet at Bonitaville and end the day of cruising PK at Lush Resort.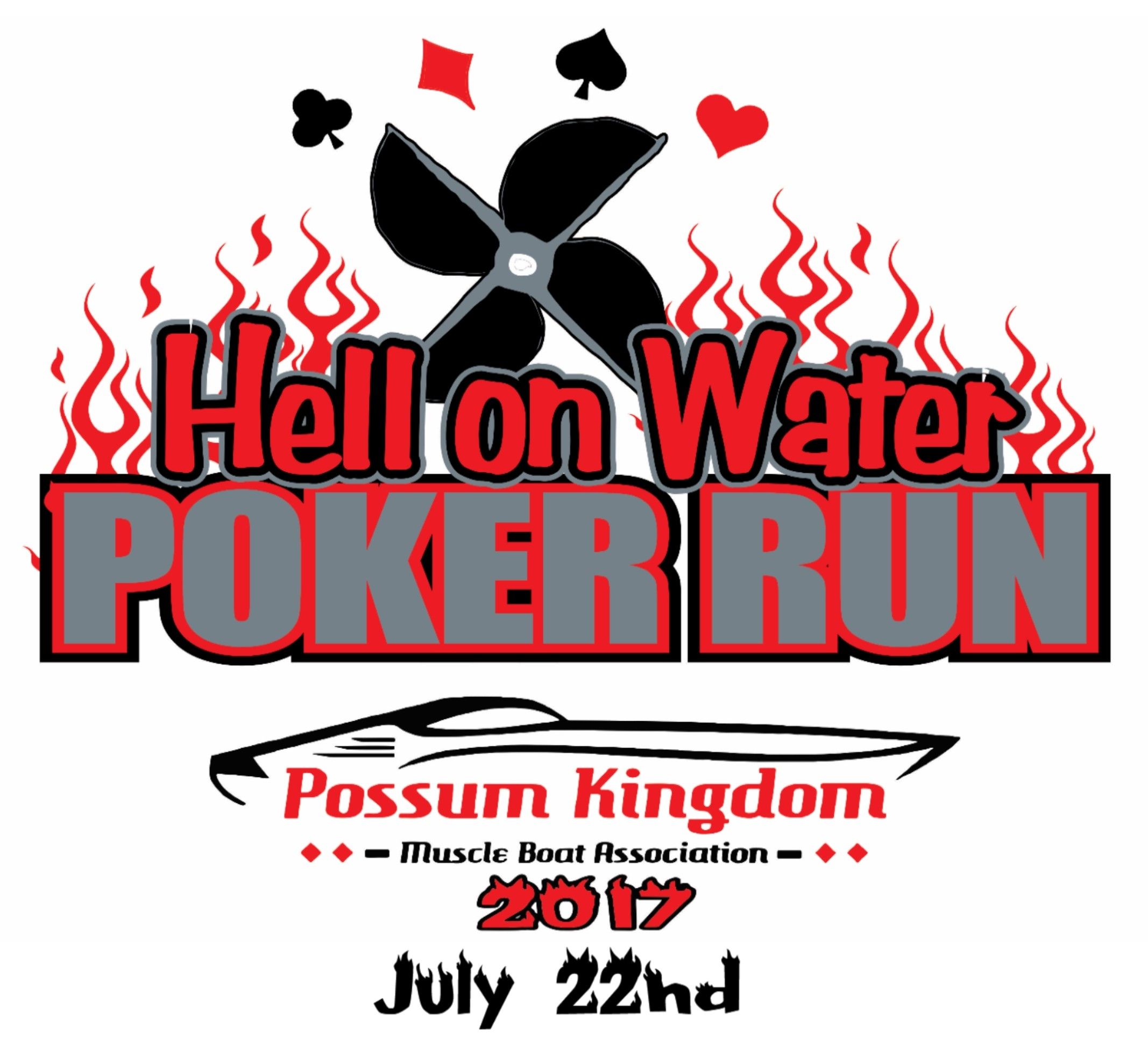 The Possum Kingdom Muscle Boat Association Hell On Water Poker Run - Saturday, July 22, 2017
$100 per Hand
Progressive Pot
Best Hand & Worst Hand Benefiting:
Jackets Float, Kids Don't & Possum Kingdom EMS

Registration 9:00 a.m. @ Bonitaville

Poker Run Starts 10:00 a.m.

Kick Off Party
July 21st @ Boondock's

www.possumkingdommuscleboatassn.org
Save