News
LYFE TYME SMOKER!
20" X 40" Double Lid | Firebox | On Trailer | Retail $5,000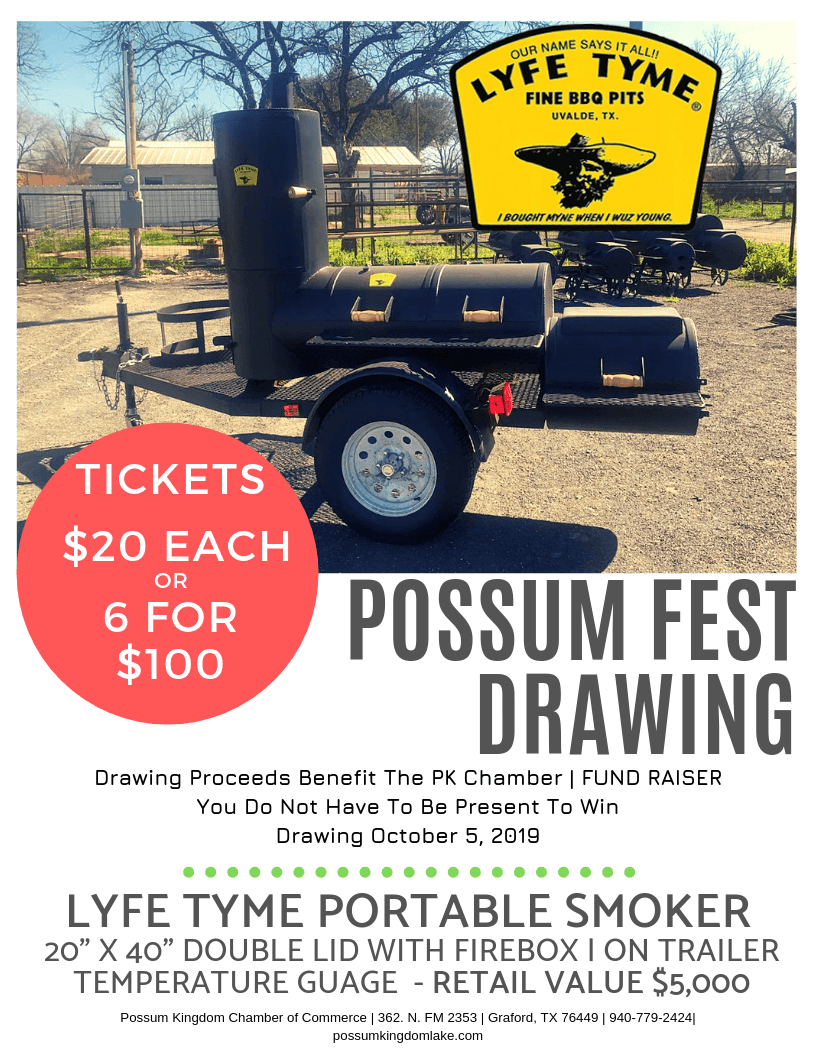 The 25th Annual!!! Possum Fest BBQ & Chili Cook-Off at Possum Kingdom Lake
October 4 & 5 | 2019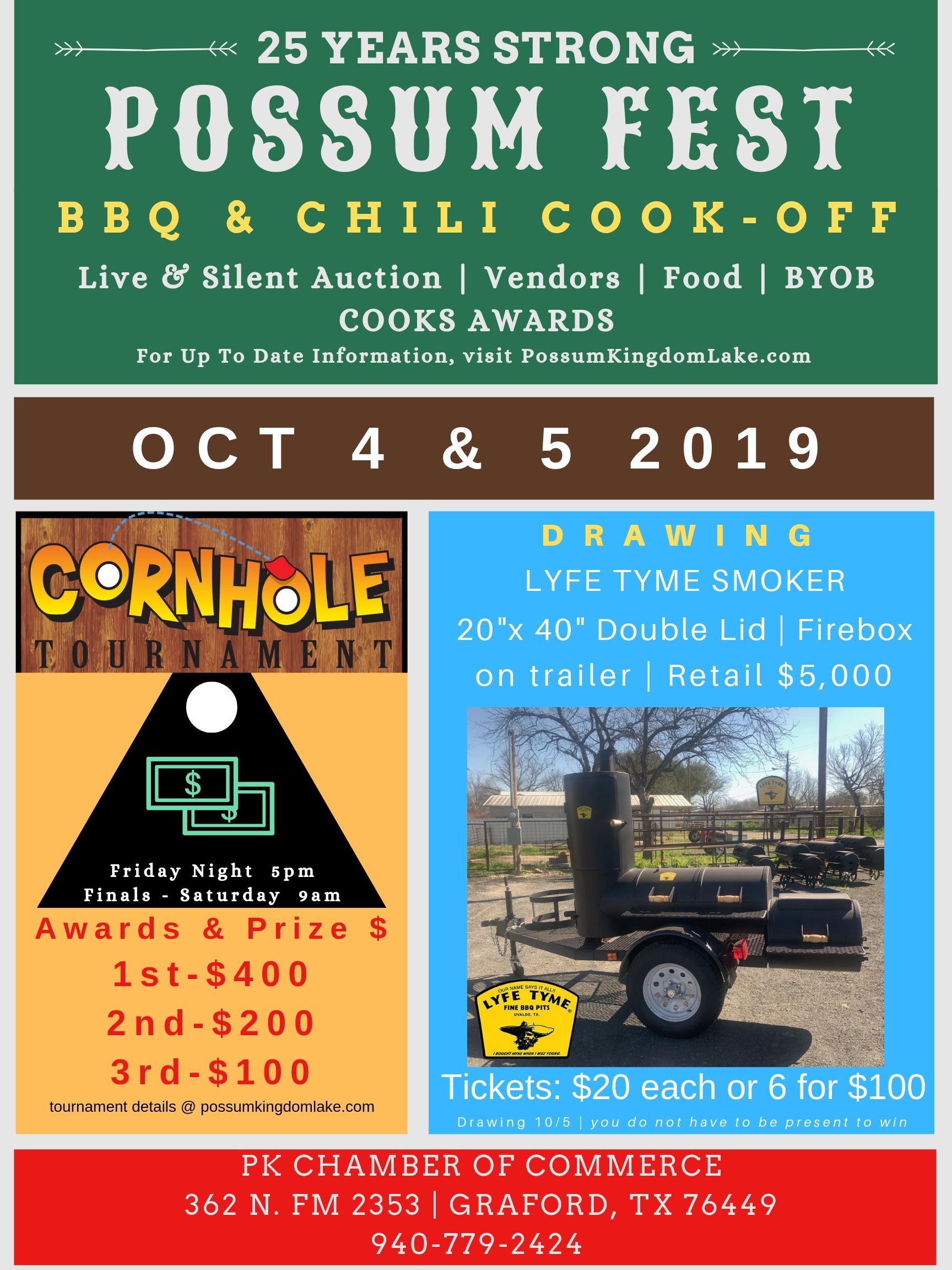 Click here for cook entry forms, live & silent auction forms and up-to-date information.
Saturday, July 6, 2019
Celebrate Freedom with a spectaculat fireworks show at Possum Kingdom Lake!
Through your generous donations, the POSSUM KINGDOM CHAMBER OF COMMERCE has proudly brought you this annual event. Please help us raise $30,000 (cost of the show) to keep the tradition going this year!
Making a donation is easy...click on the gold donate button above, or contact our office at 940-779-2424.
Thanks and enjoy the show!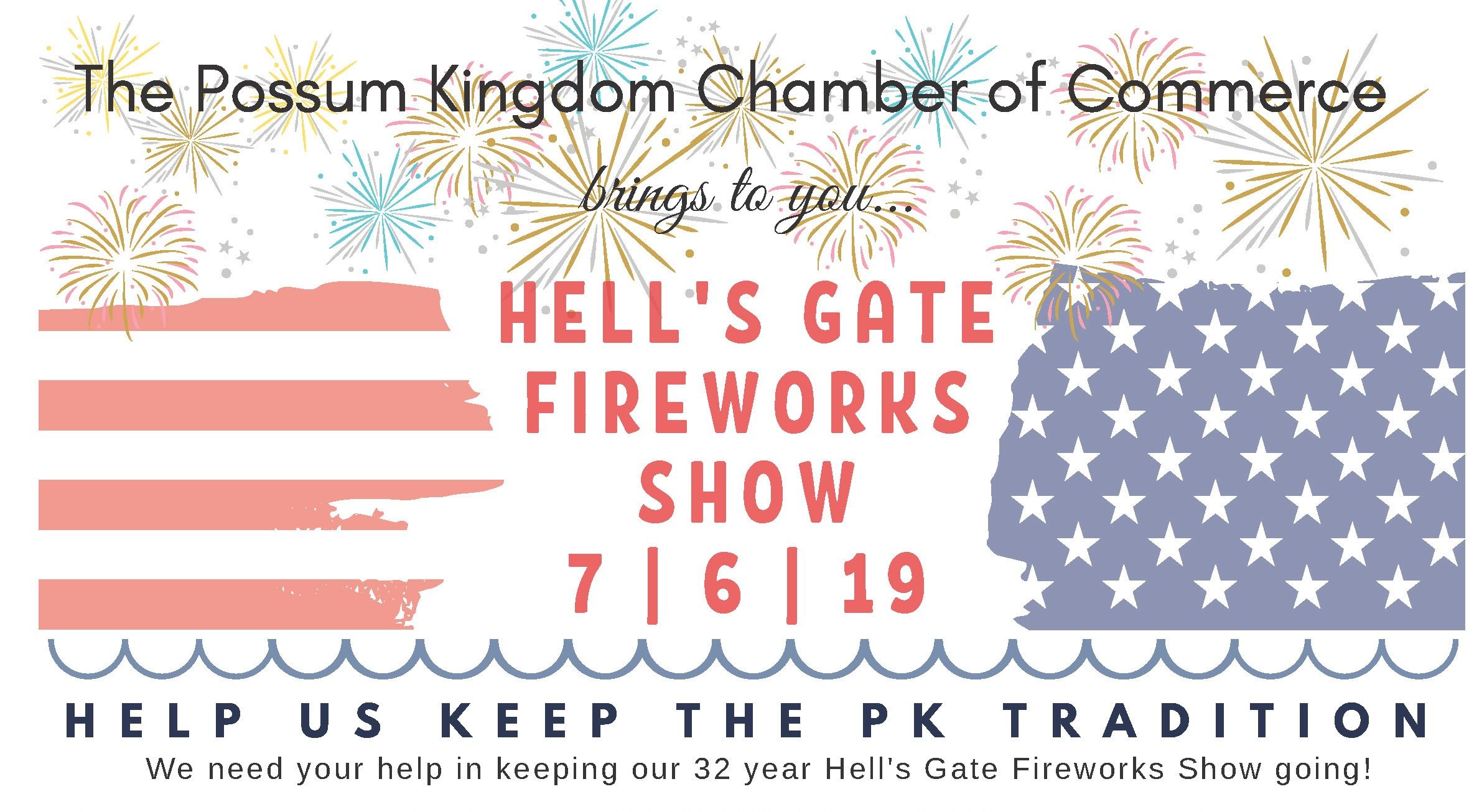 At The YMCA Camp Grady Spruce | 3000 Park Road 36
April 20, 2019 | 10:30am - 11:30am
Photos with the Easter Bunny from 10:30am-11:30am
Easter Egg Scramble | 11am - Sharp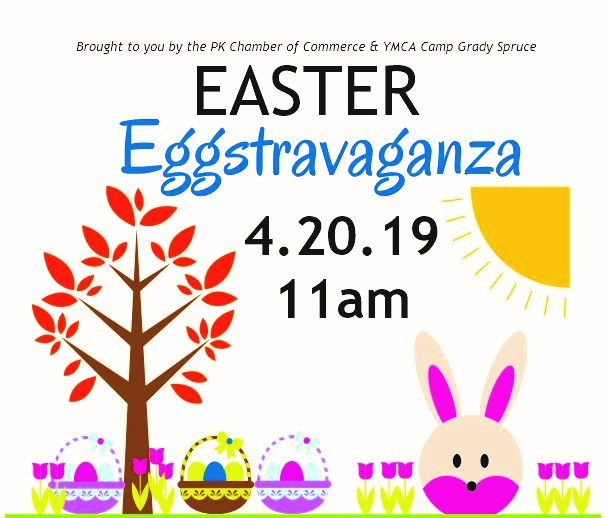 The 22nd Annual
PKCC Mardi Gras Parade and Shrimp Fest
The Possum Kingdom Chamber of Commerce would like to thank all our AWESOME volunteers, cooks, parade and costume participants. YOU made this year's PK Mardi Gras festivities fun...even if weather conditions weren't the best!
A special RECOGNITION AND THANK YOU, to Laurel McCracken - and her loyal and dedicated CREW, for the absolutely amazing SHRIMP Fest. This year, Laurel and her crew served over 500 people. And also Tammy Marsh, Tammy is the event Chairperson and keeps everything on track and is the reason the event is well-organized...thanks for your hours of hard work!
Parade Winners - thanks for battling the cold weather!
Business Category
1st Place Let Us Do It Landscaping
2nd Place Berkshire Hathaway
3rd Place Firetruck 1773
Individual Category
1st Place Dying for a PK Summer-Donna Ethridge
2nd Place Smokin' Native-Jay Guy
3rd Place Cheers to 100 Years-McCracken Family
Costume Winners - thanks for the entertainment!
Adult
1st Place Gayla Chambers
2nd Place Karen Tovar
3rd Place Donna Atwood & Pam Taylor
Kids
1st Place Kaitlyn Chambers
2nd Place Emma Dubree
3rd Place Marley Gilkey
Jeff Cowan is the 2019 King along with Connie his Queen.
Raffle winner: Danny Morris