How did Possum Kingdom get its name?
One story about why the lake is called Possum Kingdom began when a peddler named Ike Sablosky came to Texas in 1906. This salesman had come to Texas from Pennsylvania and Indiana to regain his health. Mineral Wells at the time was famous as a health spa and Ike came to recuperate. While living in Mineral Wells, Ike saw an opportunity to get into the hide and fur business as the Palo Pinto hills were a paradise for raccoon, possum, and fur bearing critters. Mr. Sablosky's best source of supply for possum hides came from cedar choppers and hunters up in Northwest Palo Pinto County. Ike called his best suppliers "the boys from Possum Kingdom". The name grew more and more popular and the area became known as Possum Kingdom. Mr. Sablosky moved to Dallas and became a millionaire in the insurance business. He once owned the Dallas baseball team of the old Texas League. After he died at age 82, most of his wealth was given to charities.
Story by Kevin D. Van Duser
What are the top 10 reasons to visit Possum Kingdom Lake?
It's listed as the best man-made lake in Texas according to Kirk Dooley's "Book of Texas Best."
The Hell's Gate/Devils' Island area is the best party cove in Texas.
Mardi Gras on Bourbon Street is the best winter celebration on the Brazos.
The trails for hiking, biking, and wildlife observation are all around the lake.
The annual Possumfest & BBQ Cook-Off the first weekend of October where almost everything but possum is being cooked!
To canoe or kayak along the John Graves Scenic Riverway below the dam or take an airboat ride up the Brazos River.
Watch the fireworks waterfall at Hell's Gate during the Fourth of July celebration.
To see the best view by a dam site at Observation Point located above the dam.
Anglers take your pick! You can fish for all kinds of bass, catfish, crappie, and even rainbow trout below the dam in winter.
It's the Great Lake of Texas!
Where is Possum Kingdom Lake?
Possum Kingdom Lake is nestled in the foothills of the Palo Pinto mountains less than 90 miles west of Fort Worth, Texas.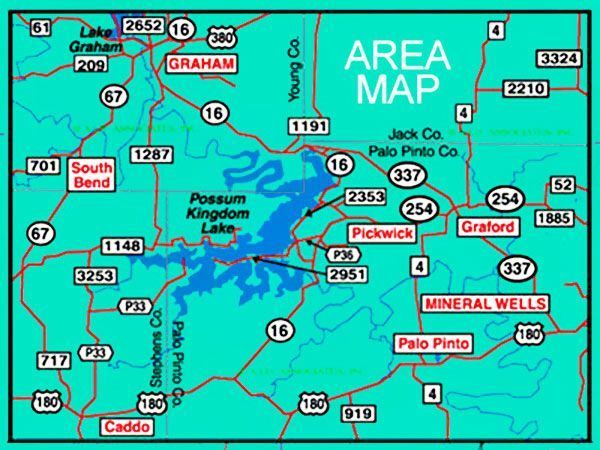 Map Courtesy of AID Lake Maps - Dallas' TX