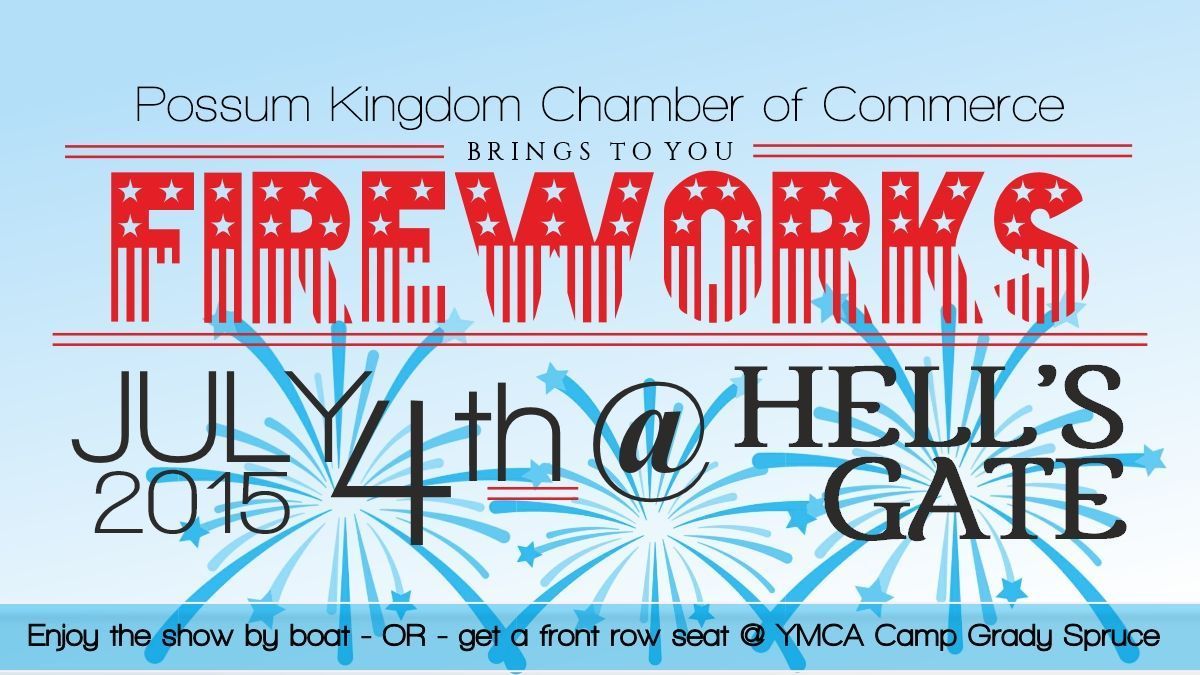 View the firework show by boat on the water or enjoy watching the show from the YMCA Camp Grady Spruce - located at the end of Park Road 36 (MAP)
Fireworks, entertainment, kids activities, concessions and lots of fun.
Bring your lawn chairs and/or blanket and you can also bring your own picnic.
The YMCA gate will open @ 6:30pm and the gate will close at 8:45pm (no exceptions). Entry fee is $5 per person - age 3 and under are free.
ALCOHOLIC BEVERAGES AND PETS ARE STRICTLY PROHIBITED - YMCA CAMP AREA WILL NOT BE ACCESSIBLE BY BOAT
---
The PKCC Hell's Gate fireworks are funded soley by your generous donations.
Please help us keep this tradition going!
Your donation of ANY amount is greatly appreciated. If you would like to make a donation, please mail to
POSSUM KINGDOM CHAMBER OF COMMERCE
362 N. FM 2353, GRAFORD, TX 76449
call us for credit card donations at 940-779-2424.
THANKS AND ENJOY THE SHOW!
---
The fireworks show will be choreographed to music and will be broadcast via FM radio station 91.9!

If you plan to view the fireworks show by boat, this map notes all the open public boat ramps and Hell's Gate fireworks show location.